Body Work
This page is dedicated to the body work that was done to my car.
( Please click on the photo for a larger view, hit your browsers back button to return )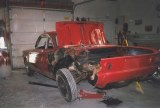 This 62' Coupe had signed up for the organ donor program. It gave the most precious gift, itself. My Corvair received its passenger rear fender. ( Poor little bugger..... I salute you! )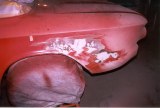 As for the other side of the car, when sanding off the old paint there was a lot of Bondo that was discovered.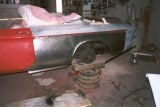 And because the donor car had already given it drivers side fender to another needy Corvair, a new fender had to be purchased.
The front of my Corvair was in good shape. It was just sanded and primered, then sanded and primered some more.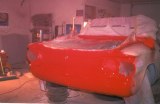 The same thing was done with the paint. It was sprayed and wet sanded several times. This gave the car a glass like finish.