My Cars History....continued
Well as I said before I drove and enjoyed my Corvair for the entire summer. But I thought I was not happy as I could have been because the car was in need of body work and I have no talent at such things.
My father had a 1965 Fairlane that I had had my eye on for some time.
( Click on the image for a larger photo, hit your browsers back button to return )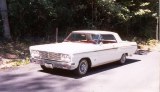 This is an exceptional car. All original body with NO Bondo or filler of any kind. I got my chance to get this car when my Dad was looking for a daily driver for my Mom.
My Mom always liked my Corvair, so with my Corvair and a few extra dollars, we made the trade.
During that winter Dad sent the Corvair to the
body shop
and I decided to fix the only thing that was wrong with the Fairlane, the engine. Not that it needed mechanical work, but it was in need of a good detailing.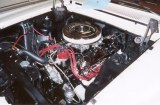 And here is the final product. Nothing was changed from stock with the exception of the chrome valve covers and air cleaner. Chrome spark plug wire holders were also installed. All parts were removed from the engine and replaced with new ones. I had a lot of fun with this project.
But I missed my Corvair. The Fairlane was a great car but it was just not the same.
I had been keeping track of the Corvairs progress at the body shop and I was impressed with the work that they were doing. On a whim my Dad told them to shave off the backup lights. I thought it looked great!
Then came the day he brought the Corvair home.
I got on the computer and ordered new carpet, a new radio and speakers and Baby moon hub caps and stainless steel trim rings. Then I bought a tach. and a wood steering wheel.
I wanted to change the tail lights and I was thinking about the 1960 Chevy style. When my Dad came thru again. Dad has a friend who owns a 56' Chevy and he had just ordered new tail light lenses. Dad knew that I was looking for new lenses so he asked his friend if he could have his old lenses and he agreed.
The 56' lenses fit inside of the stock bezels but the screw holes did not quite line up. My Dad and I had planned on elongating the 56' holes when I found a good set of lenses.
The very next weekend we were all at a local car show that had a small vendor section. I was looking at some old literature when my Dad told me he had found something I might be interested in. He had found two brand new 56' tail light lenses! I quickly snatched them up!
After getting home I fit up the new lenses and realized that all I had to do was turn the lenses a few degrees and redrill the screw holes in the bezel. I had them installed in just a few min.
That's about all I have at this point. This winter I plan on installing dual exauhst and a new gas tank among some other things.